Yep, that's right, stay still too long in this house and I will patchwork it!
I brought a second hand foot stool last year. It is lovely and big and comfortable. Great for resting legs on whilst watching movies and useful extra seating when lots of visitors arrive. I really liked it, the price of £15 helped with that too! Only trouble is I wasn't so keen on the twee Laura Ashley style fabric
Perfect for my Mum perhaps but us not so much, the fabric was loose too and irritatingly sloppy on the sides. I knew I would re-cover it, toyed with the idea of using some precious stashed Echino, the idea being I could gaze upon it and enjoy it daily, rather than it being hidden in the cupboard.
Then last week I made up my January bee blocks for Lucy in the Bee a Brit Stingy. Me being stingy managed to make my strip piece go a long way and got 5 feather units out of it by joining up all the cut offs and so on. Two were sent to Lucy and the other 3 got some rather special treatment.
I have wanted to make a feather quilt for ages, I loved Charlotte's and was a bit jealous when Lucy chose them for her month (I am next months queen) so I was chuffed to have some of my own but knew I couldn't face making a whole quilt of them. Then I stumbled across
this amazing cushion by Amanda of A Crafty Fox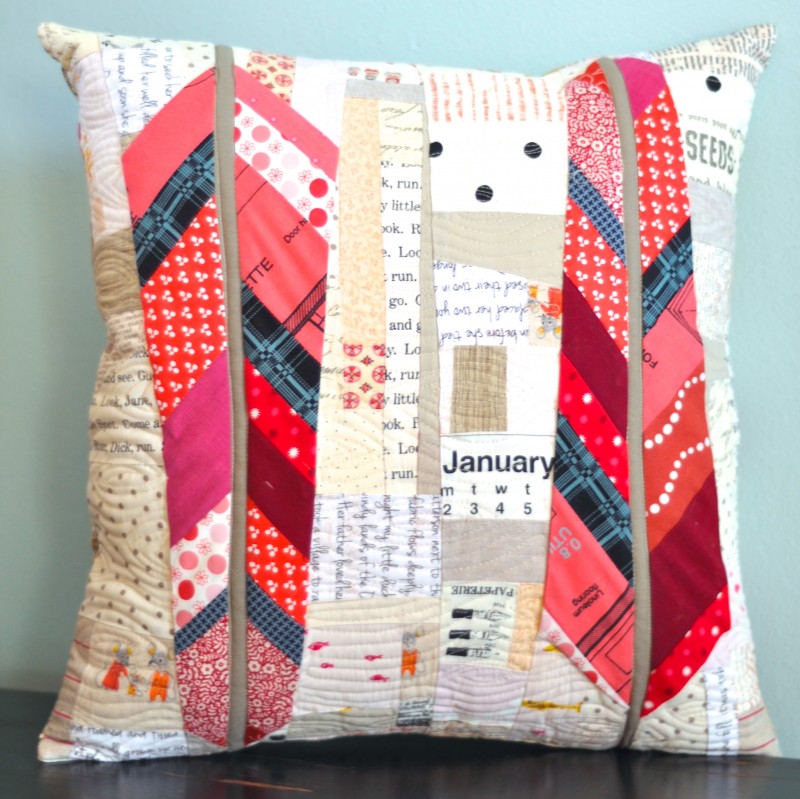 Isn't it just gorgeous! I would give my kidneys for a cushion like that, I just love everything about it. They say imitation is the sincerest form of flattery and I really hope Amanda agrees because I just knew this was what I had to do to my footstool and those spare feathers.
So with a lot of careful cutting of very precious fabrics and some meticulous sewing - random can be so difficult and time consuming when you are trying to to waste even a fraction of special fabrics - I had a pieced top to fit the footstool. I then free motion quilted it in a wood grain effect (just like Amanda, eeek I am such a copy cat, but I loved it so much I couldn't help myself!) best seen from the back
Not great, but not hideous which is great considering it will be on display for all to see in the lounge. I then did a little pearle hand quilting around the feathers and wonky star I had added to help them stand out, sewed the corners up, stapled it to the footstool top and hey presto!
I have the worlds swankiest most amazingest footstool EVER!
I was really very brave and cut into some of my treasured Heather Ross along with text fabrics and hand printed fabric from friends. It was scary (I bet a lot of you know how that feels!) but I am so glad I did. Yes I might not have as much stashed as I did and yes I can't get any more BUT I see it every single day rather than occasionally stoking it and putting it away again.
I hope you like my makeover too, I'm off to see what else I can cover in patchwork....don't tell the husband ;-)